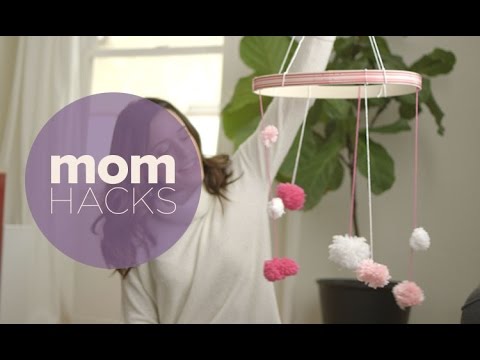 Welcome back to Mom Hacks! We're showing you how to make this easy DIY mobile for your little one's nursery. All you need is yarn, an embroidery hoop, ribbon, and scissors! Subscribe to Mom.me: http://goo.gl/FC4E7R

More Mom.me

Mom Hacks: DIY Fruit Yogurt Pops
http://bit.ly/2l1vE0i

Mom Hacks: 3 Easy DIYs With an Ice Cube Tray
http://bit.ly/2l1htbG

Quick Cooks: Easy Energy Boosting Smoothie
http://bit.ly/2kpYaa0

Like this video
Follow mom.me on Twitter: https://twitter.com/momdotme
On Facebook: https://www.facebook.com/momdotme

Or visit mom.me for more: www.mom.me

Mom Hacks is where the experienced editorial team from Mom.me shows you simple, easy, everyday shortcuts for all your parenting needs. From tricks to soothing a fussy baby to the cutest crafts to make your home beautiful, Mom Hacks has the tips you've been seeking.