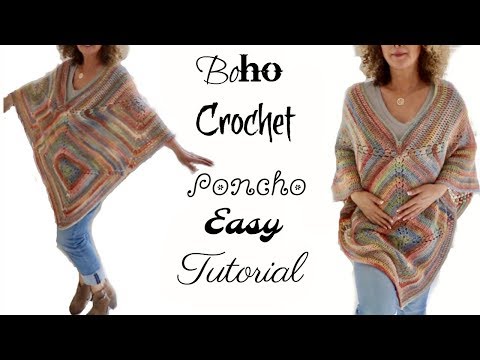 Create this perfect summer to Fall Boho Granny Poncho with me and get ready for Autumn in style, easy to follow step by step Tutorial for you my amazing Crochet Family!!! Happy Crochet to all!!! xoxoxo

Yarn used in this Tutorial:
6 skeins of Rico's Creative Melange
Color: Pastel Mix 001
Yarn Weight: DK |
Light Worsted Blend:
53% Virgin Wool
47% Acrylic Needles:
Ball Weight: 1.75oz
Yarn Length: 98yds (90m)

the yarn is on sale here: https://www.loveknitting.com/us/rico-...

Link for the yarn in the Uk: http://www.woolwarehouse.co.uk/yarn/r...

https://www.amazon.co.uk/Rico-Creativ...

For yarn substitutions go to: https://yarnsub.com

For written Tutorials: http://www.annoocrochetdesigns.com
Facebook : https://www.facebook.com/annoo.crochet.3
Instagram: annoocrochet




AnnooCrochet Designs
PO box 187
Weston MA
02493
USA

music: https://soundcloud.com/user-979832266...